If you are still figuring out what to sell on Amazon so that you make good money, then this is the right article to read. Trust me, I have been there and I know the struggles of coming up with the right product to sell on Amazon that can increase your revenue.
Amazon sells 398+ million individual products. So, this literally means that there are plenty of options to choose from. So, what's the big deal? Yeah, that's right. But is exactly where all the confusions start. When you have a plethora of choices, things get hard. In short, the more, the tougher.
Not only beginners but also experienced Amazon sellers have trouble sorting through their market and coming up with that one fantastic niche that converts their efforts and time into money.
Understand that the kind of product you sell on Amazon can actually make or break the ideology of what you want to achieve from it. This is why you should know how to crack it right from the beginning and that's exactly you are going to learn here.
To be successful in the e-commerce business, you need three key factors:
The right product

Best strategies to market

Right motivation to keep things in pace
So, let's get started.
What To Sell on Amazon So That It Revs Up The Revenues?
Fortunately, Amazon itself gives a huge information to help a seller predict or have an idea if a certain product is possible to pour in profits. Even if you don't have that starting point, there are many tools to help you in the process.
Learning what to sell on Amazon requires you to do a deep research and of course, this is going to take a huge amount of time. Hence, to simplify your work, this guide will assist you in finding profitable product categories and maximizing the revenue you earn on every sale.
I personally have tried multiple tools but nothing can come close to sellerapp.com. The application has multiple free tools, where you could perform keyword research, check if a listing quality is good enough or not, the source for keywords, products, and so on.
So, here's what you exactly need to find the best products to sell on Amazon.
SellerApp Account:

This tool is exclusively designed for Amazon affiliate marketers and Amazon sellers to find the best products to sell.
Selling online is not only time consuming but also requires experimenting. Now, this means that you are going to fail a few times and that's inevitable.
Whenever a product fails to perform the way it should, you will have to keep up your passion and be motivated to try with a few more products. Eventually, you are going to get it right. You will soon learn to sense the market trends and unveil what customers want.
Before I teach you to use SellerApp to come with hot products that perform really well on Amazon, here a few key things to jot down.
Tips To Note:
Pay Attention To The Amazon's Customer Reviews
One of the ideal ways to know if a product will sell well or not is by analyzing the customer reviews. Go to Amazon and see what people are raving about? Check what are they disappointed and upset by?
This will truly inspire you as to what product could work in the market and what could actually go wrong.
See Products That Have Fewer Customer Reviews
Search for product listings that have less than 30 to 50 reviews. While searching for a product, if you find that the top results only have some customer reviews, then you have hit a gold! Know that Amazon ranks a product heavily based on its reviews.
The higher the reviews, the higher the competition. But, the lesser the reviews (despite the product being in a decent demand), the faster are the chances of ranking on the Amazon SERPs after you generate a few sales.
Dimension And Weight Of A Product Plays A Key Role
This is helpful to check if a product item is expensive to ship or not. Let's take a scarf as an example here. Assume that the weight of a scarf is 3.2 ounces. This is light enough to not only ship but also turns out to be expensive when it comes to shipping charges.
Even though its dimension is large, it can be folded and shipped through a small mailer envelope. This meets the cheap-to-ship criteria. Since it is the scarf, it is not going to break either. This meets the easy-to-ship criteria.
Keep in mind that lightweight and easy-to-ship products make good sales on Amazon. So, a quick analysis on this can do a great deal.
Quick Checklist On How Your Product Should Be:
Choose a product that has a sale price between $10 and $50.

Make sure that the product is lightweight (under 2 to 3 pounds).

Do not choose a product that is fragile or easily breakable.

Ensure that the product you choose has high searches for its keywords.

Pick a product that is available year-round and not seasonal.

Find a product that encourages customers for recurring purchases.

Make sure that the product you choose has the opportunity to expand with other related products.
Here's how SellerApp helps you find the profitable product to sell on Amazon in less than 5 minutes
You can start by getting a free 7-day trial or just pay after creating an account. The moment you sign in, on the left pane, you will see multiple options. But there are three key options:
Product Ideas

Product Research

Keyword Research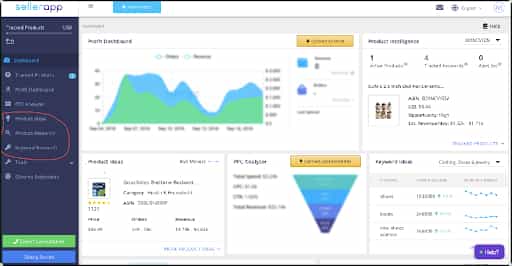 Product Ideas
Upon clicking the option "Product Ideas," you will be able to view a list of best-selling products based on the current market demand and latest trends.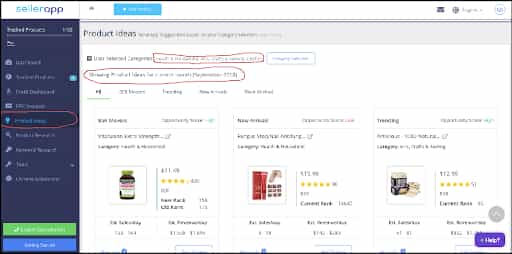 What you can do here?
You can quickly track a product that you want to research and analyze its competition.

Choose the best products that you want to track based on its estimated sales and revenue.

You can keep refreshing the list to fetch more products.

You can even modify the category preferences to unveil profitable products from other categories.
Read the complete detail here.
Product Research
With this option, you will be able to discover some profitable product opportunities on Amazon. The tool fetches all the data based on the current trends. So, you don't have to work for hours on it.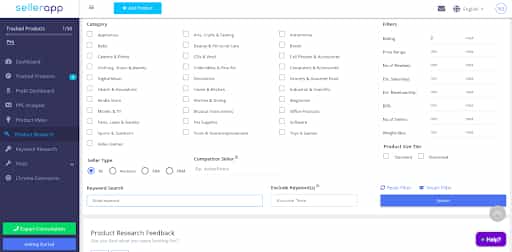 What you can do here?
Enter the search term or product that you want to look for. For best results, use two or more words. Say, for instance, "metal watches" rather than just typing "watches."

Select a product category.

You can even choose more than two relevant categories on the first search.

You get to set up pricing filters. The ideal price range to find the best product is to look for items within $15 – $50.

You can exclude keywords that you don't want them to be on your product list.
Read the complete detail here.
Keyword Research
This option assists you to improve your product rankings with highly-searched buyer keywords. This feature comes quite handy.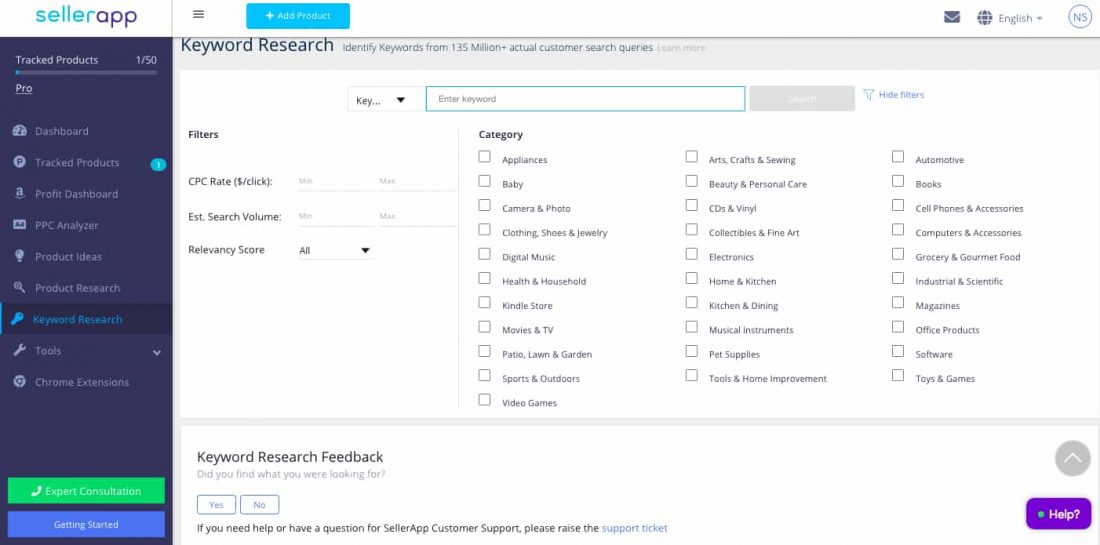 What you can do here?
You can enter the seed keyword. For best results, use two or more input terms.

If you are looking for keywords in a specific category, just set up the category filters.

You can load product suggestions for products that are indexed on top for certain keywords.

You can even track Product Suggestions, meaning items that are relevant to your product listing.
Read the complete detail here.
Was this post helpful?
Let us know if you liked the post. That's the only way we can improve.